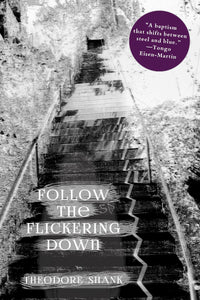 "
Follow The Flickering Down
is a baptism that shifts between steel and blue. Ballads of the underdog. Stirring the shards of small, electric moments, read along to Theodore Shank raising an army. Proving that sacred human memory and social biography belong in the hands of a poet,
Follow The Flickering
Down
is our beautiful misfit permanence."
—Tongo Eisen-Martin, author of Heaven Is All Goodbyes
"Trough a combination of poignant short stories and poetry, Theodore Shank translates a coming of age narrative which is both relatable and unique. Shank deftly relates his experiences, transporting the reader to spellbinding time and place, with an unmistakably Santa Cruz flavor."
—Russ Rankin, vocalist, Good Riddance
"These profound poems stand alone and double as insightful confessions, reminding us who we really are and who we want to become."
—Venus Jones, author of She Rose
Click here to read an excerpt from the book!
Author: Theodore Shank
Paperback: 78 pages
Publisher: Thera Books (November 27, 2019)