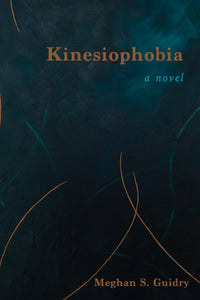 KINESIOPHOBIA,  FROM AUTHOR MEGHAN GUIDRY 
Hailed as "stunning" and "genre-bending" and praised for its "jewel-like imagery" and "revelatory through-line," this striking debut traces family history, from the distant past of the Acadian expulsion to Hurricane Katrina and beyond, to explore why parallel tragedies happen across centuries. Through sharp, obsessive snapshots of key inflection points - the sinking of the Duke Williams, the breaking of the levees, the diagnosis of a tumor - Guidry turns her family's history into a dazzling mythology to explore how distant events shape our lives, and what it means to heal from trauma in the face of incomprehensible loss.
PRAISE FOR
KINESIOPHOBIA
"Meghan Guidry renders a quintessentially American tale of generational struggle; of haunted, hunted characters paralyzed by a dark inheritance, with ferocious, poetic grace. Kinesiopobia is a story of love and survival, a gorgeous harrowing journey through fire and flood."
-Cara Hoffman, author of Running and RUIN
"The grip of ancestral destiny guides Meghan Guidry's incomparable Kinesiophobia. Evoking the fluidity of Clarice Lispector and the incisiveness of Janet Kauffmann, Kinesiophobia braids the trauma of exile, rising flood waters, and inevitable ends to create both mythology of and homage to her family. With jewel-like imagery and a revelatory through-line, Guidry invites the reader to accompany her on an irresistible journey into how we inherit and break free from, tragedy."
-C.D. Collins, author of Afterheat and Blue Land
"There is no better way to behold life's ugliness than through horror, and this genre-bending, disturbing mosaic of a ghost story creates a terrifyingly beautiful framework for understanding what it means to be haunted—by the superstitious tales of our ancestors, generational damage, and the fragility of our own flesh. With empathy and an extraordinary grasp of the depths of human connection, Guidry takes the shards of grief, trauma, and guilt and renders them into a stained glass window so lovely that not only can we not possibly look away, we are prone before it."
-Kristi Petersen Schoonover, Editor, 34 Orchard, author of Bad Apple